Sigh. Anyway, note no chambon, no halter! :)
Thanks, TR for the photo!
I decided to throw a party of sorts. I wanted to invite several parts of my horse world to ride at the lake on Sunday.
So I got busy texting - folks at the barn. Folks from my old barn. My farrier who had said she has always wanted to ride at the lake.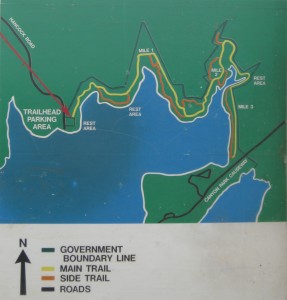 I tend not to have many opportunities to plan this kind of ride. Life as a working mom has just enough wrenches to be tossed in willy nilly at any given moment. I hate letting people down, but the eight year old gets sick or Dad's back goes out or the dog has to be rushed to the vet and voila! You are Ms No-show!
Plus riding my new horse in a big group was another big step for us. But Smokey's been to the lake plenty of times, and he'd have some familiar herd mates there. I thought it could work. So I organized baby sitting, DH went out of town, all I had to do was stay focused. :)
The lake trail is a beautiful one
(
click here
for a nice little website with a of a few trails in our area). I never have any pictures of the lake because I'm much to busy loving every moment. One day I'm going to go and just take pictures at every turn because in many ways this is a wonderful mix of environments. Wide open fields. Heavily treed areas. Water crossings. High weeds to walk through. Trails long the lake shore. riding up and down ravines. It's lovely.
Here's the run down of who came with:
Davy on sorrel QH Amigo, Kelly on red roan QH Chico, and their daughter on my mare Lily (Sierra was feeling under the weather, but Lily LOVES trail riding and I was so happy she had such a great rider).
Barn owner/trainer Donna on the gaited Palomino Buddy (who is 4, nearly as wonderful as Smokey and for sale), and Steph on Cibolo
Barb (our farrier ) on her black QH Nekohoma (I think that's his name) and Deb on her sorrel TWH Trigger.
Me and Mr. Smokey Mountain (I use his full name on trail rides)
TrailRider on black Azeteca Woody and his daughter V on dun QH Lola (woo boy does he have a story for you on that ride)
Sharon (my old barn owner and adventure partner from my Canyon days ) on her black QH mare Ebony.
It was a glorious day. The temperature have finally decided to drop below 100, making the day downright cool for a week into September in Central Texas. Smokey and I drifted between groups, learning more about some of the horses I didn't know. For example at one point I heard some heavy breathing right behind me and turned to see Barb on her QH.
"Hey, quit breathing heavy on my horse's tail," I joked.
She laughed, and Deb (who was riding to one side) laughed too and said "We call him Free Willy."
Now this horse was black with a small white stripe, but that hardly seemed reason to call him an orca.
"Really? Why?"
"Because of his trach."
"WHAT?"
Sure enough, this very nice, very forward QH had a hole in his neck that you could put your fist into. Turns out he was having tremendous problems breathing - only getting 20% of the oxygen level he needed. The vet suggested she consider a trach - since the only other option was putting him down and he was such a good minded horse. So Barb opted for the trach.
And he's been a blow hard ever since. His only limitation is no deep swimming (not that he didn't try).
Over all things went smoothly. Cibolo had a few moments - he got laid into by Lola who is a mareish mare. He took off at a run after she tried to kick him. And in bigger groups he really feels the need to be in the front. Ironically in a group of three he is perfectly content being last. But Steph rode him through it, sometimes into the brush and eventually with the cantering group.
Smokey and I stayed in a trot walk, mostly because we wanted to keep Buddy in a quieter pace - during our one and only canter he really took off with Donna. But she rode him through and got him back down. Smokey was enjoying the run too, and rated down reluctantly. A few times he'd get a little eager to go and we'd do a single circle and he'd come right back down.
Later, during an adventure I'll let Trail Rider relate, Smokey did do a 10 yard dash, but again, came right back down.
In a word, he did fantastic.
We all went for a long swim with our horses, most of them groaning with pleasure. Donna rode the Palomino who had never been in the water before - and he turned out to be a total water horse.
I finally got a nice water borne bareback ride on Smokey. Then, it happened.
I'd slipped off into the water and offered him one more walk in the deeper end before we headed back. He looked at me at that moment. Just faced me and looked at me for the longest time.
I smiled at him and petted him on his forehead. I felt him putting it together. He saw Donna on that other horse. We'd been here twice before. Lily was with us, but I wasn't messing with her. I felt the intensity of his gaze.
I'm with you. Not just for now.
I guess he hadn't quite made that connection before. But seeing Donna on the Palomino gelled it for him, I think.
That's right. I told him, smiling.
He gently dropped his head to me, and I dropped mine to him as well. We stood there in the cool lake water, hanging out, face to face, leaning into each other ever so slightly.
And when we walked out, we were somehow lighter.
What a great day...
Hope yours was as wonderful.