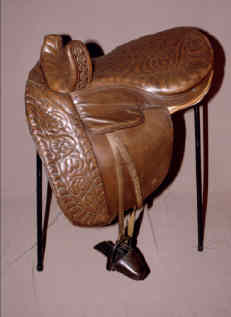 I recently read about the connection between women riding horses "straddle" and the sufferage movement.
I don't know about you, but I take for granted that women can vote. But when I read this
article
(written by by CuChullaine O'Reilly FRGS, of the Long Riders' Guild Academic Foundation), it set me back on my heels. Women were literally beaten in the streets for calling for the right to vote. Some were sentenced to insane asylums (although men were not crazy for wanting to vote. Somebody help me figure
that
one out).
What really piqued my interest was how it coincided with women no longer being willing to ride in the insanely dangerous side saddle style. (photo is Queen Victoria's side saddle from this
site
)
Consider this:
[riding sidesaddle] also handicapped the rider in another way, communications, as unlike male riders a sidesaddle rider could not apply the pressure of her leg to the right side of the horse, nor give her mount any signals with her thighs, knees, or heels.


Even worse, she could not drop her hands in order to turn or stop a runaway horse.

Sadly, if she was involved in an accident, a girl was more likely to suffer serious injuries in a sidesaddle. (most accidents ended up with a broken back, because the women would fall

under

the horse)

Not to mention the tremendous pain to the horse who had to carry a woman on one side. Can you imagine how the chiropractic issues from that???
The irony was that women had been riding astride for centuries (if not longer) before someone decided they needed to o protect... well, let's just say the purity of the young ladies riding around to their eager bride grooms. Then it became a fad.
Times changed, though. In the late 1800s more and more women rode astride, and by the early 1900s women ultimate endurance riders (called long riders) were crossing the country astride. Alberta Clare made the connection between the right to vote and the right to control your horse:
In 1912 this diminutive pistol-packing Long Rider made an 8000 mile solo equestrian journey across America that took her from Wyoming to Oregon, south to California, across the deserts of Arizona, and on to a triumphant arrival in New York City. Throughout the course of her long journey, Clare publicly stated that she associated her desire to vote with her right to ride astride. Upon her arrival in New York, Alberta was greeted by Teddy Roosevelt, who praised Clare's courage and urged that women be granted the right to vote.


We voted a few weeks ago, most of us never gave a thought to Clare, or Inez Milholland (pictured here, who led 10,000 marchers through New York on her charger Gray Dawn, died young fighting for the right to vote), or the hundreds of other women who fought, rode, and did not give up until they had won the right for women to be able to touch a screen and have their opinion, their vote, count.
Wouldn't they be proud of us voting, riding, and standing up for our families and communities?
I like to think so.
For real fun read about Two Gun Nan
here
. At 31 she rode across the country, covering nearly 4500 miles in 180 days on her bay mare, Lady Ellen. Twice she had to shoot her way through town.
I tell you, I'm going to make a kids book about that woman. Who's with me? Yee haw!